Koh Touch (Koh Tui) on Koh Rong
Koh Touch (AKA Koh Tui) is the main tourist area on Koh Rong. The beach is full of bars, restaurants, night clubs, guesthouses, and resorts. Although Koh Touch has a reputation for being a lively party destination, there are some fantastic quiet beach holidays available here also.
Easily accessible by all the main ferry services, Koh Touch is one of the most convenient places to get to on Koh Rong. It is also the most 'civilised', with several small shops, an ATM, and a doctor's clinic.
Some of the views on Koh Touch are fantastic – Pristine white beaches, clear turquoise ocean waters, and a tropical jungle wilderness surrounding the beach front (in particular, a 10 minute walk to the right of the main piers).
The quality of the accommodation varies from cheap dorm beds to more comfortable bungalows with air-conditioning, large beds, and en-suite bathrooms. Pricing varies accordingly, from $10 / night to $70.
Plan & Book Your Trip
Attractions & Activities on Koh Touch
(For more in-depth information, please read: Best Attractions & Activities on Koh Rong)
Snorkelling & Scuba Diving
Koh Rong is home to some of the most exquisite marine life, so Snorkelling and Scuba Diving is a very popular activity (please speak to the Koh Rong Dive Center on Koh Touch or Reef Dive Resort on Longset Beach).
Walk to Longset (4K) Beach
If you're a fan of sightseeing, there is a fantastic walk on the island towards Pura Vita and Longset Resort, heading right as you get off the ferry on the main pier of Koh Touch.

Longset Beach on Koh Rong
Glowing Plankton
Sparkling like a starry sky all around you, Koh Rong's bioluminescent plankton are a wonderful sight to behold at night times.
Jet Skiing

For some fast paced action on the beautiful clear waters, you can hire a Jetski at either KM Watersports (located by Monkey Island Resort) or at Golden Bungalows.
Windsurfing

Whether you're an expert or a beginner, you can learn or rent windsurfing with Rong Wind (at Reef on the Beach – Long Set Beach).
Kayaking

Kayak to a small island for snorkelling or to the Mangrove River on Longset (4K) Beach.
Paddle Boarding
A few places rent paddle boards on Koh Touch – Just ask someone on the main beach when you're there (you can also rent them at Rong Wind above).
High Point Zip Line and Rope Park
The High Point Zip Line and Rope Park is an obstacle course up among the trees. To quote the founder, it is a sort of 'jungle gym' for those who want to see wonderful jungle scenery while having some active fun.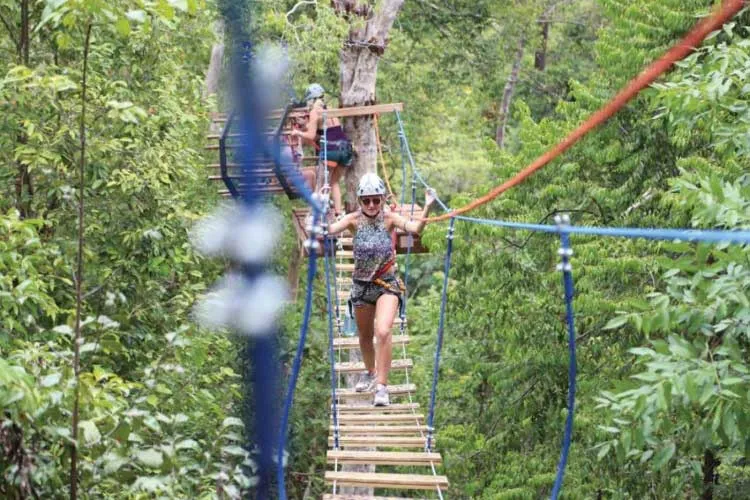 Bicycle Rental
The Royal Group have built a road connecting their fabulous Royal Sands Resort to Koh Touch, so you can now get to Long Beach from Koh Touch by bicycle.

Long Beach on Koh Rong
Blob Jump
If you're up for trying something very different and exciting, there is a Blob Jump at Tree house Bungalows.
Staying on Koh Touch – Tips and Advice
Food & Drink: In general, most restaurants serve a variety of Khmer and Western dishes. Food prices average around $3-$5 / main meal, but are more expensive at the better resorts. For a more in depth review, read: Best Restaurants and Bars on Koh Touch.
Shops: There are several mini-mart style shops on the island, but prices are inflated, so it's a good idea to stock up on any essentials before you go (don't forget to bring plenty of mosquito spray and suntan lotion).
ATMs: Koh Touch is the only place on Koh Rong with an ATM. It is now also possible to do a WING transfer, carried out over a mobile phone.
Money: Changing large notes can sometimes be problematic on the islands, so please try to bring smaller denominations ($).
Night Life: Apart from the main tourist area on Koh Touch, there are no other party areas on Koh Rong (except occasional events at the adjoining 'Police Beach').
Prices: On average, Koh Touch is the cheapest place to stay on Koh Rong / Koh Rong Samloem. There is a wide range of options on both islands however. On Koh Touch, the most basic accommodation starts at $10 / night, and goes up to $70 / night (for a spacious bungalow with private bathrooms, large comfortable beds, etc.).
Plan & Book Your Trip
Koh Touch Map