Koh Rong is developing rapidly, and there is now so much more to see and do on this beautiful island. Here we are going to summarise all of the best attractions and activities on Koh Rong in 2018.
(See also: 5 Best Things to See and Do on Koh Rong Samloem)
Snorkelling & Scuba Diving
Koh Rong is home to some of the most exquisite marine life, so Snorkelling and Scuba Diving is a very popular activity (please speak to the Koh Rong Dive Center on Koh Touch or Reef Dive Resort on Longset Beach).
On Koh Touch, several places organise snorkelling trips where they take you to good locations around the island. This is your best way to see some of the wonderful miniature eco-systems, coral, seahorses, and nudibranches that are abundant on the islands.
Booking a trip is very straight forward – You'll see them advertised on the main beach. A typical snorkelling trip will also include fishing, seeing the glowing plankton (see below), BBQs, and sunsets. They tend to cost around $10 and are from 1pm – 7pm.
If you want to splash out a little bit more (around $70 for the trip), we recommend hiring a private long boat to take you further north towards Pineapple Island (you can also take a trip around the whole of Koh Rong this way).
Around here there are some fantastic pristine beaches with superb snorkelling locations, and if you like, you can stop several times to try the local Khmer fishing techniques (using only a plastic bottle and some fishing wire).
Walk to Longset (4K) Beach
If you're a fan of sightseeing, there is a fantastic walk on the island. The walk we have in mind is towards Pura Vita and Longset Resort, heading right as you get off the ferry on the main pier of Koh Touch.
Now, in general, if you are looking for a quieter holiday on Koh Rong, there are some fantastic resorts on this part of Koh Touch (we recommend White Beach Bungalows and Tree House Resort, as well as Paradise Bungalows). However, even if you choose not to stay here, you should definitely try to see this area during your stay, as the beach is in a great condition and the ocean waters are fantastic.

White Beach on Koh Touch
If you head past Paradise Bungalows and White Beach Bungalows on your left hand side, the next resort is Tree House. Keep walking following the beach area around and you'll pass Star Fish Resort. At times you will need to go off the actual beach itself into the forest, but the path is very easy to follow. After about 15 minutes you will walk out onto a large beach expanse (about 4km or so) with little development (there are a couple of resorts along this beach front and plans for a couple more, but they are currently at early stages).

Longset Beach on Koh Rong
Glowing Plankton
Sparkling like a starry sky all around you, Koh Rong's bioluminescent plankton are a wonderful sight to behold at night times. (Learn why they glow on Wikipedia)
Although this phenomenon is abundant on the islands, the glowing plankton can only be seen in places with very little light pollution.
As such, if you're staying on Koh Touch the easiest way for you to see the plankton is by booking a boat tour (you can also walk to Police Beach on non-party nights (15 minutes left from the main pier) and Tree House Bungalows (15 minutes right from the main pier), or make your way to Long Set Beach around the corner from Koh Touch).
Booking a tour is very easy (they are advertised along the beach) and a trip to see the plankton will cost about $5 (leaving at 7pm). You can also see the plankton during a boat trip (see above).
Jet Skiing

For some fast paced action on the beautiful clear waters, you can hire a Jetski at either KM Watersports (located by Monkey Island Resort) or at Golden Bungalows. Prices tend to vary depending on the season (and sometimes on the demand on the day) so you could be looking at paying $150 for 1 hour of fun. Please be careful of people snorkelling or diving!
Windsurfing
Further out away from the main swimming areas there can be a bit of wind, which is great for activities like windsurfing. Whether you're an expert or a beginner, you can learn or rent windsurfing with Rong Wind (at Reef on the Beach – Long Set Beach).
Kayaking

On a nice day the water can be calm with very little waves – ideal for a little adventure! You can Kayak to a small island for snorkelling or to the Mangrove River on Longset (4K) Beach. The cost for rental is about $5 per hour or $12 per day.
Paddle Boarding
If the adventure above sounds like just too much work, take advantage of the beautiful calm waters with some gentle paddle boarding. A few places rent paddle boards on Koh Touch – Just ask someone on the main beach when you're there (you can also rent them at Rong Wind above).
High Point Zip Line and Rope Park
The High Point Zip Line and Rope Park is an obstacle course up among the trees. To quote the founder, it is a sort of 'jungle gym' for those who want to see wonderful jungle scenery while having some active fun.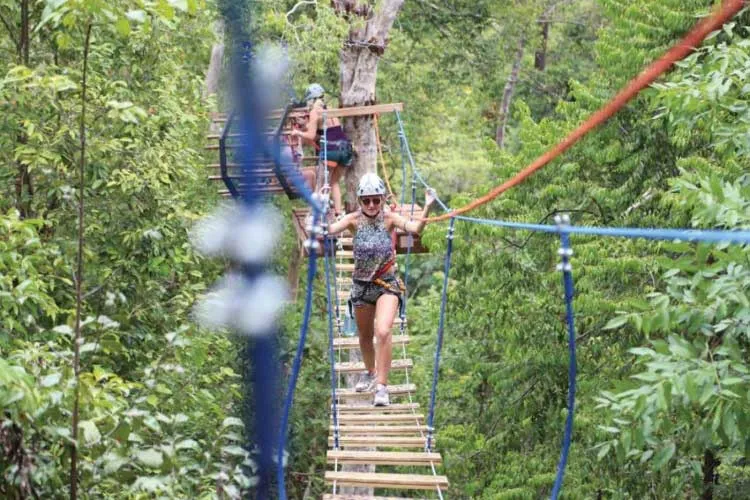 20 ropes hang between the trees, each one presenting a different challenge. For example, one is a tightrope and one is a horizontal ladder.
Now and then throughout the course you're rewarded for your hard work with 'easier' activities: Two zip-line courses and a swing and barrel that fly between the trees at heights of up to 24 metres.
To find the High Rope Park head left off the main pier towards Police Beach – You'll see signs advertising it. The cost of the course is roughly $25 in low season and $35 in high season.
Bicycle Rental
The Royal Group have built a road connecting their fabulous Royal Sands Resort to Koh Touch, so you can now get to Long Beach from Koh Touch by bicycle.

Long Beach on Koh Rong
This makes for a fantastic day trip, as you can sit and relax on the soft white sandy beaches with very few people around you.
Blob Jump
If you're up for trying something very different and exciting, there is a Blob Jump at Tree house Bungalows.
In case this is something you've never tried – You jump from a height of 4-6 metres onto a giant blow up 'blob'. You'll then move to the opposite end and a friend will bounce you back up into the air and into the water beneath. This exhilarating experience will cost about $3 per go.