Attractions & Activities on Koh Rong Island
(For more in-depth information, please read: Best Attractions & Activities on Koh Rong)
Snorkelling & Scuba Diving
Koh Rong is home to some of the most exquisite marine life, so Snorkelling and Scuba Diving is a very popular activity (please speak to the Koh Rong Dive Center on Koh Touch or Reef Dive Resort on Longset Beach).
Walk to Longset (4K) Beach
If you're a fan of sightseeing, there is a fantastic walk on the island towards Pura Vita and Longset Resort, heading right as you get off the ferry on the main pier of Koh Touch.

Longset Beach on Koh Rong
Glowing Plankton
Sparkling like a starry sky all around you, Koh Rong's bioluminescent plankton are a wonderful sight to behold at night times.
Jet Skiing

For some fast paced action on the beautiful clear waters, you can hire a Jetski at either KM Watersports (located by Monkey Island Resort) or at Golden Bungalows.
Windsurfing

Whether you're an expert or a beginner, you can learn or rent windsurfing with Rong Wind (at Reef on the Beach – Long Set Beach).
Kayaking

Kayak to a small island for snorkelling or to the Mangrove River on Longset (4K) Beach.
Paddle Boarding
A few places rent paddle boards on Koh Touch – Just ask someone on the main beach when you're there (you can also rent them at Rong Wind above).
High Point Zip Line and Rope Park
The High Point Zip Line and Rope Park is an obstacle course up among the trees. To quote the founder, it is a sort of 'jungle gym' for those who want to see wonderful jungle scenery while having some active fun.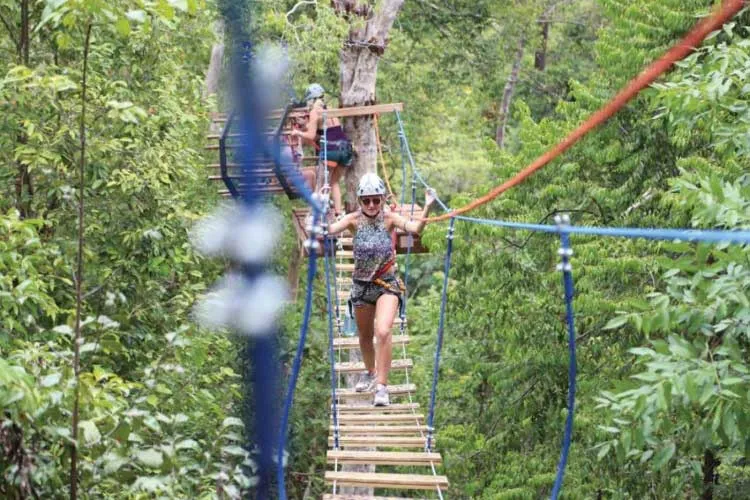 Bicycle Rental
The Royal Group have built a road connecting their fabulous Royal Sands Resort to Koh Touch, so you can now get to Long Beach from Koh Touch by bicycle.

Long Beach on Koh Rong
Blob Jump
If you're up for trying something very different and exciting, there is a Blob Jump at Tree house Bungalows.